The  Dominican Republic has traditionally been a hotspot destination for plastic surgery, US patients are known to save up to 60% in treatment cost, including airfare and traveling fees. Known for some of the most renowned beaches in the world, the Dominican Republic attracts thousands and thousands of medical travelers each year because they want two things—cost effective healthcare coupled with vacation spots to relax and soak up the Caribbean sun. Patients travel here for cardiology, cosmetic surgery, dentistry and orthopedic procedures. Here is an interesting interview with Deborah Reeves who lives in the United States of America and traveled to the Dominican Republic to get plastic surgery. She is a mother of six, and has being researching destinations for weight loss surgery that makes sense for her. She finally setting on the Dominican Republic after much research. Deborah has given us consent to use her full name, as well as her before and photos.
Interview Questions and Answers with Medical Traveler: Deborah Reeves
Q: Please give us an overview of how and when you made the decision to utilize medical tourism for your procedure? And what made you choose India as your destination?
A: I decided to go to Dominican Republic for several reasons for elective surgery because of their expertise difference in body shaping, their restrictions are different, the price is cheaper also. My journey started 5 yrs ago when my hair stylist went over to Dominican Republic and care back #Snatched. That's a saying used in elective surgery when your waist is small and your hips are wide and butt cheeks are big.
Q: Was this your first medical tourism trip? How did you prepare for your journey?
A: Yes this was my first medical tourism trip, I prepared by getting my body right and my mental right. I took Iron pills, Vitamin C pills, Folic Acid pills, and B12 pills everyday. I drink plenty of water and made sure my skin care was on point for surgery. I also made sure had pain pills and muscle relaxers to take with me because they don't have the same pain medicine as the US ours is stronger.
Q: How did you choose what doctor to use?
A: I researched Dr. Y for 5 yrs keeping up with deaths, infections, and lipo burns and at that time she had no deaths, infections or lipo burns that I could find. When I say deaths I mean that she was responsible for mean no deaths on her table or no deaths due to neglect.
Q: Did you travel with a companion? If so, what were the benefits? if any.
A: Yes I did I travel with my hair stylist. I paid her flight and her stay and it benefited a lot because she had been through it and knew what to expect. You have to take someone with you that loves you and to make sure you are taking care of the right way because Dominican Republic is not like the US as far as medical they stuff is old and the facilities look ancient. Their staff is self taught so not all the nurses are licensed. Some of the recovery houses are not clean enough so people has caught infections from recovery houses. You need someone to make sure everything is clean.
Q: How was the cleanliness and appearance of the hospital you received treatment from? How was the staff and nurses?
A: The cleanliness was fine the staffed cleaned and disinfected all day. The staff and nurses of Dr. Y was great they main concern is your health.
Q: Did you have any fears or concerns about receive medical care in another country? If so, what were they?
A: Of course, I had concerns I was going to a country that is known to be a 3rd world country. My concern was coming back to my husband and kids. I didn't want any infections, lipo burns, but my biggest concern was not needing a blood transfusion that why I took all those different vitamins to make sure my hemoglobin was high enough so I wouldn't need a blood transfusion.
Q: Did you feel safe at your hotel and other places you visited in the country?
A: Yes I felt extremely safe. I had no worries at all I stayed at Kindness Recovery Houses. I trusted my driver Patrick he made sure we were ok at all times. The only time we were alone when we left the recovery house was at the doctors office.
Q: How long did it take you to recover from your surgery before you could travel home, and what did you do during the recovery phase?
A: It took me 13 days before I could travel back to the US. I made it to the Dominican Republic on Feb 28th and returned back home on Mar 13th. I did absolutely nothing there I didn't even turn the TV on just did a lot of resting. I stayed in bed if I was getting a massage or going to the doctor I stayed in bed.
Q: What are the advantages of getting a medical procedure in your destination of choice?
A: The advantage is the results the are excellent on round 1 some people get several rounds. I'm satisfied now Dr. Y changed my life. I got my body back after having 6 kids and my self confidence is back.
Before and after photos of Deborah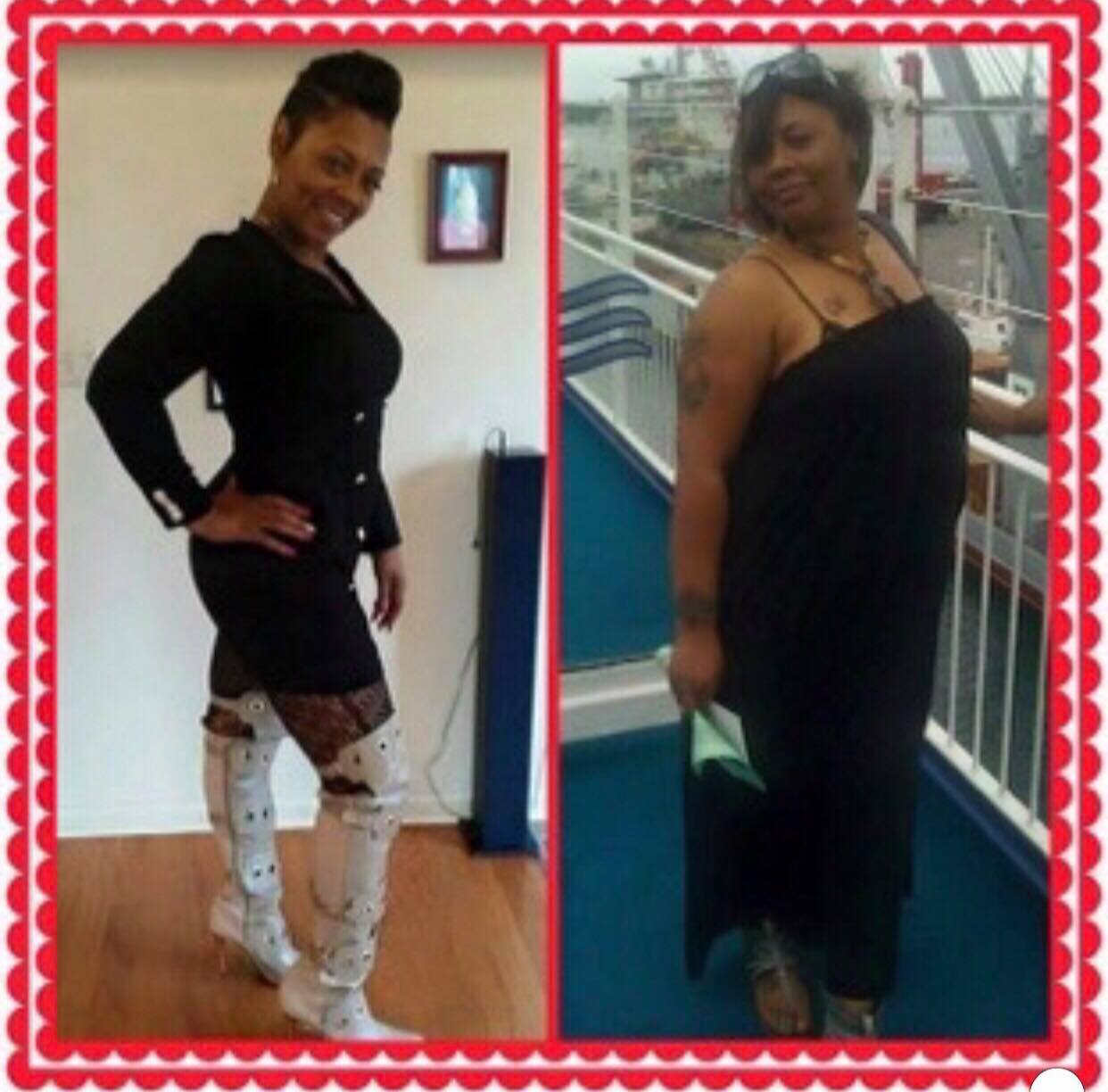 Q: Was there anything's that you didn't like about the medical care? Were there area's that they could improve in?
A: I feel like they can be more informative as far as your procedure like how many CC's of fat they put in each butt cheek and how many liters of fat they lipo out your body. My stomach could have been lipo from my top stomach muscles down but that's ok she did a excellent job considering my results. I contacted her and told her my concern and she offered to redo my lipo free of charge for her I just have to pay for the use of the facility, anesthesiologist, medicine etc. I appreciate that and will be taking Dra. Yily up on her offer so I will tell you how that turns out.
Q: What advice would you give someone thinking of traveling to this destination for medical care?
A: My advice would be to do as much research on the doctor of choice and the recovery houses because those two things are very important and can make your recovery so much easier and infection free. The most important thing is to follow the doctors orders and not lie about your health at all. If you are denied surgery from a doctor do not doctor hop make sure you get your health in order first thing try again a year later. Some women wants the surgery so bad their life is second to a big butt. So they will lie about their health condition to qualify for surgery and some don't make it home. It's no benefit in being dead and snatched. If you are feeling sick and weak after surgery let your recovery house know right away to contact your doctor, and lastly listen to your body we know our bodies better than anyone. If you not feeling right speak up and don't let them tell you it's normal you have to be your own advocate when you are out the country. Your PCP knows your body like you do not a foreign doctor that gives you a series of test one day prior to surgery so make sure you speak out if you feel your level of care is not right.
Q: What is something that the medical tourism facilitator or healthcare provider could've offered you, that would've made your trip better?
A: I had everything that was needed to make my stay successful including my Lymphatic massage package that was included with my stay at the recovery house.
Q: Did you experience and complications from your medical procedure? If so, please explain.
A: Yes I had complications that I cause by not listen to Dra. Yily orders. She told me to use the spiro meter everyday to make sure my lungs were being exercised and I didn't do my lungs collapsed then I caught pneumonia. But outside of that If I had of listened I wouldn't of had no complications
Q: What did you like or dislike about the culture in the country?
A: The culture was fine I was treated great I have no complaints at all about Dr. Y, her staff or Kindness Recovery house and staff. I didn't get out besides going to the clinic but the few people I came across were friendly.
COMPARE THE COST OF TREATMENT ABROAD IN 4 SIMPLE STEPS
By using our site, you agree to the Make Medical Trip Terms and Conditions. Make Medical Trip does not provide medical advice, diagnosis or treatment. The information provided on this site is designed to support, not replace, the relationship that exists between a patient/site visitor and his/her existing physician. Copyright © Make Medical Trip This page is also available in: English Deutsch Français Español Italiano Russian Rules of specific data usage By agreeing to Make Medical Trip's Specific Personal Data Policy you agree to the collection, processing and use of your specific personal data you have submitted in the inquiry forms and in your further messages to the clinics and members, including attachments, as far as this is necessary for rendering the requested services. In addition to the data you have submitted during registration, all data input by you in the context of communication with Providers or other users on the platform, is saved. The processing of this data shall take place exclusively for rendering the requested services. Please note that we can provide the requested services only if you have consented to the collection, processing and use of your specific personal data. You have the right at any time to oppose the collecting, processing and use of specific personal data with effect for the future. For this, please send an email with a brief explanation of the revocation to 
Info@MakeMedicalTrip.com
 and specify your name and email address.
Website Disclaimer
The sample documents, templates, ebooks and outlines we give away were constituted by medical tourism experts to help patients and medical tourists with their medical trips.  The intention of the outlines is not to act as a substitute for professional advice for individual circumstances. The outlines do not constitute medical advice or healthcare advice from our company, which entails other entity or person, or company members.
Introduction.
The terms and conditions for these website contained in this webpage are meant to govern the use of the website, and every page within the website (the collective term used for all the web pages is Website). The terms are enforceable and influence the manner in which the website is used. By accepting to use the website, you particularly accept all the detailed terms and conditions outlined here.  This website must not be used if you protest any one of the terms and conditions outlined herein. This website cannot be used by minors (minors, in this case, mean people who have not attained the age of 18 years). Anyone who is a minor is prohibited from accessing the website.
What are website standard terms and conditions?
The terms and conditions for this website have been articulated in the form of a list of rules created with an intention of setting a basis under which the business relationship can be established and for the purpose of regulating the website's repetitive actions.
Intellectual Property Rights.
Except for the content which you have voluntarily chosen to include in the website [MakeMedicalTrip.com] under the stipulated rules, the licensor has full ownership of all the materials and intellectual property contained in the website, and every right has been reserved. All users have only been given limited license for the content dependent on the terms restrictions, for viewing material inside the website. Panda Tip: If and where the content in the website has been designed for viewership, then the user can pick it up from the last point above. Having said that, you will probably be required to offer more with respect to descriptive language concerning what the user is allowed to use our website for.
Restrictions.
Website users are categorically and particularly delimited from; 1)    Publication of any of the materials in this website on any media 2)    Commercializing, sublicensing or selling any material from this website 3)    Utilizing the website in such a way that might damage it 4)    Showing and/or performing any of the website material in the public 5)    Use of the website in such a way that influences access to the website by other users 6)    Using the website in a manner that contravenes regulations and applicable laws, or a manner that might harm or inflict harm on the website or any business or person. 7)    Use of the website for the purpose of engaging in marketing or advertisement. 8)    Performing any data harvesting, data mining, data extraction or such like activities on the website or during the use of this website. Some of the areas in this website [MakeMedicalTrip.com] have been restricted from users and further restrictions may be imposed on accessing other website areas at the discretion of the website owner. Any password and user identification owned for accessing this website is confidential and such information must be held in confidence.
Your Content
In accordance with the terms and conditions of this website, the content for the user means any video, audio, images, text, or any other materials the users opt to display from the website. With regard to the content displayed by users, the user grants the owner a worldwide, non-exclusive, royalty-free, irrevocable, sub-licensable license for the use, publishing, adaptation, translation, reproduction, and distribution of such content to any media. The content displayed by users has to be their own and should never trespass the rights of any third parties. [MakeMedicalTrip.com] holds the rights to delete any user content from the website at their discretion without giving notice, and for their own reasons.
No warranties.
The website has been provided in its current form, with all the faults and there is no implied or express warranty representation from [MakeMedicalTrip.com] in any form in relation to the website or contained materials. In addition, no information contained on the website should be taken to mean that advice or consultancy is provided to the user (this includes connecting with hospitals, clinics, doctors, and/or members through our website).
Limitation of liability.
Under no circumstances shall the website [MakeMedicalTrip.com] or any of the employees, directors and officers be held liable to the website user for any situation emanating from the use of the website or from the connection of any hospitals, clinics, doctors or medical tourism facilitators in any way, whether or not such a liability falls under tort, the contract or any other situation. [MakeMedicalTrip.com] as well as the directors, employees, members and officers will not be held accountable for their indirect, special or consequential liability emanating from anything associated with the website's use.
Indemnification.
The user fully insures [MakeMedicalTrip.com] against and from any liabilities, causes, demands, damages, expenses, and costs emanating from or in relation to any violation of the terms provided (including the attorney fees deemed reasonable).
Severability.
In case any provision in the terms is deemed invalid or unenforceable under any of the applicable laws, then such invalidity or unenforceability will not cause the terms invalid or unenforceable in totality. In addition, the invalid and unenforceable provision will be removed without influencing the other provisions in any way.
Variation of Terms.
The website [MakeMedicalTrip.com] holders are allowed to introduce revisions to the terms as they wish and as they deem fit. By accepting to use the website there is an expectation that you will read the terms regularly in order to make sure that all the terms and conditions guiding the website's use are understood.
Assignment.
The website [MakeMedicalTrip.com] has permission to transfer, subcontract, and assign its obligations and rights under the stipulated terms without having to get consent or to issue a notification. The website users are, however, not allowed to transfer, subcontract, or assign any of the obligations and/or rights under the terms.
Entire Agreement.
All the terms, with the inclusion of disclaimers and legal notices in the website, make up the wholesome contract between the user and [MakeMedicalTrip.com] with regard to the website's use. The terms are superior to any prior understandings and agreements with regard to the website.
Governing Law & Jurisdiction.
The terms for this website are construed and governed in conformity with Florida Laws. The website users must accept to be submitted to the federal courts and nonexclusive jurisdiction of Florida State for the purpose of dispute resolution.