7 months after I had my first excess skin removal surgery I again hopped on a plane with my boyfriend to undergo my second surgery. I used the same absolutely fabulous surgeon and I do not regret it. He did an amazing job and I am sooooo happy. Medical Tourism is not something I undertook lightly and I did a MASSIVE amount of research before finding my surgeon. And boy did I make the right decision. Both of my surgeries were a complete success and I have never been happier. I recorded a video every day to document my experience so that I could share it with everyone, especially with people who are in the same situation as me and I looking or hoping to have surgery abroad. Surgery can be scary, even if you are going to your local hospital so I wanted to share with everyone how the whole experience was for me. – Michelle S. (medical tourism patients)
1.) Please give us an overview of how and when you made the decision to utilize medical tourism for your procedure? And what made you choose India as your destination?
After I looked into the options for plastic surgery in Canada and saw how far outside of my means they were I started looking into travelling elsewhere. After well over one year of researching doctors and destinations I settled on getting plastic surgery in Mexico.  I had my excess skin from my arms and stomach removed as well as breast implants and then on a second trip I had excess skin from my buttocks and thighs removed.
2.) Did you use a medical tourism facilitator to help you coordinate your trip? If so, please explain the service they provided.
The doctor that I chose has a team here in Canada that helps you prepare for everything and they also provide a translator for the duration of your hospital stay in Mexico. This person picks you up from the airport and also helps you get back and is with you the entire time in the hospital as well as for all check-ups with the doctor during your stay.
3.) Was this your first medical tourism trip? How did you prepare for your journey?
Yes. I asked a lot of questions and spoke to past patients as well as the facilitator and translator on how to prepare for everything. I also ate healthy and was very active in the weeks leading to my surgery. I also did yoga, meditated and set my intentions for a great surgery and speedy recovery so that my mind and body would be ready for the process. Focusing on a positive outcome and being well prepared allowed me to ignore everyone's fear of a surgery abroad. I was literally the only one of my friends and family who had zero fears. Its al about the law of attraction.
4.) How did you choose what doctor to use?
I read a lot of reviews and spoke to a lot of patients who have had medical tourism done and the doctor that I chose had come highly recommended. I also spoke to a plastic surgeon here in Montreal and asked him to look into this doctor's background to see if there was any malpractice or deaths or anything to be worried about and he gave me the OK. He had in fact studied this doctor's work when he was training to be a surgeon. Can't get a higher recommendation than that!
5.) Did you travel with a companion? If so, what were the benefits? if any.
I travelled with my boyfriend and I would absolutely not recommend for anyone undergoing so many surgeries at once to travel solo because with the surgery I had for the stomach the arms and the breast I was rendered pretty much immobile and he took care of everything from getting me in and out of bed to showering to getting to the bathroom and preparing food and cleaning up.
6.) How did the medical care compare to your home country?
I've had several surgeries and hospital stays in my country and the medical care and facilities I received in Mexico were absolutely amazing. I was stunned that it was actually much better in Mexico than in Canada.  Or at least it was with this doctor and that hospital.
7.) How was the cleanliness and appearance of the hospital you received treatment from? How was the staff and nurses?
The hospital and the room and the staff and the nurses were all absolutely amazing and helpful and everybody has a cell phone so we were all using Google translate to communicate and they were just absolutely amazing they were warm and friendly and efficient and caring and just so hard-working.  There was one day in the beginning of my recovery where I was in a lot of pain and while the doctors nurse was massaging my body for the swelling I had tears running down my face and she wiped my tears away and held my hand and told me that it was going to be OK.
8.) Did you have any fears or concerns about receive medical care in another country? If so, what were they?
I had absolutely no fears or concerns about receiving medical care in Mexico because I had spent so much time doing research and speaking to past patients of this doctor and I was extremely mentally and physically prepared for surgery.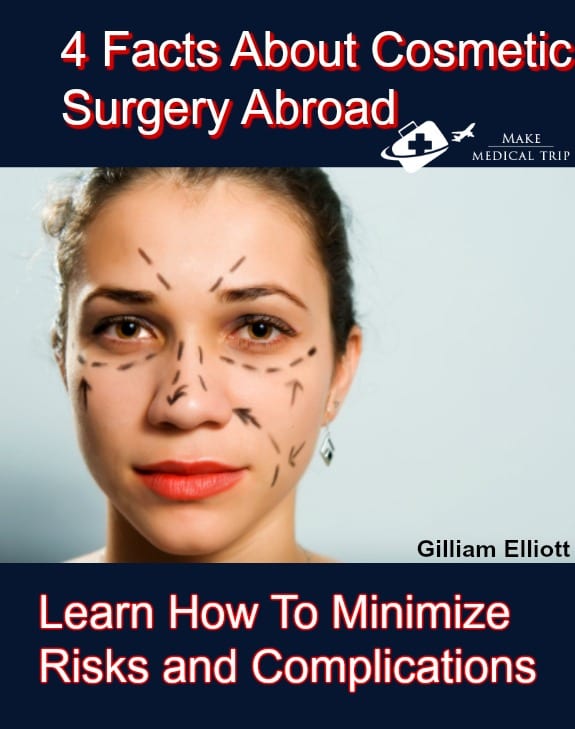 9.) Did you feel safe at your hotel and other places you visited in the country?
I felt very safe at my hotel and the neighborhood that we were staying in. We were warned however not to venture too far away from our neighborhood as it did get less safe (potentially) for tourists but we were treated extremely well by the hotel staff and they were very familiar with people staying there for surgery so they took extra good care of the cleanliness of our room and also change the sheets every day since they knew that we were spending most of the day lying in bed recovering. Local restaurant and shop staff were very helpful and kind as we spoke zero Spanish. Thank god for Google Translate!
10.) How long did it take you to recover from your surgery before you could travel home, and what did you do during the recovery phase? Did you enjoy any of the country's entertainment?
I stayed in Mexico for two weeks and was in the hospital for two days before heading back to the hotel I went to see the doctor at his office every single day for check ups and massages and bandage treatments to see that everything was going well.
The recovery was not that bad the pain was extremely manageable I only used painkillers for the first three maybe four days. The worst was the discomfort! For example, with my stomach, I was not able to straighten up which meant that I could not lay down or sit up straight I always had to be hunched so my back was in agony for most of the trip.
For the first week after surgery it's recommended to rest and walk but not too much. And you also do get tired pretty quickly so going for long excursions was not possible in the first week
We got to visit restaurants and shopping and the pyramids as well as interacting with various people on the streets and everything was great. We enjoyed many restaurants and even went to the movies as well as going and visiting the area's the parks and attractions that the city had to offer in our neighborhood and a few others. We even went to a Walmart. That was crazy fun because its nothing like ours but also familiar.
11.) What are the advantages of getting a medical procedure in your destination of choice?
I think the main advantage is the fact that you can afford it without having to in debt yourself over 100k and you get to experience another culture and maybe even turn it into a mini vacation. It was an amazing experience and we both loved Mexico. We want to go back on vacation.
12.) Was there anything's that you didn't like about the medical care? Were there area's that they could improve in?
There is nothing that I didn't like or that they could improve everything that I needed or wanted was seen to and they were extremely experienced so most of my needs and wants were taken care of before I even had to ask.
13.) What advice would you give someone thinking of traveling to this destination for medical care?
Do your research! And don't necessarily go for the cheapest care. There were other doctors in Mexico that were cheaper than what I paid with my doctor but they were not at his level if you know what I mean. Don't cheap out on such a major surgery.  I understand that it's expensive and money doesn't grow on trees but this is your body and your life! You want the best!
Also, beware that some doctors in your country might resent that you went elsewhere for surgery. I had one doctor in the ER in Canada give me shit and refuse to treat me and told me to go back to Mexico even though my injury HAD NOTHING TO DO WITH MY SURGERY OF 4 MONTHS PRIOR. Most were fantastic, but my experience of being in pain and refused treatment scared me so badly that when future doctors asked about which doctor operated I gave them his name but named a Canadian hospital out of fear of prejudice.
14.) What is something that the medical tourism facilitator or healthcare provider could've offered you, that would've made your trip better?
Honestly in this case nothing because they are so experienced they knew everything that I could possibly need or want. They even gave me tips on how to get the best conversion rate for my money as I had to pay the doctor in Mexican pesos. They were consummate professionals.
15.) What did you like or dislike about the culture in the country?
I guess the only thing I could say that I dislike about Mexico was the extreme poverty that we witnessed. Coming from Canada it's surreal to me that people live in these cramped tin houses on a mountainside just outside of a major city!
And the driving was something else! It was the first time in my life I've been somewhere where I could not read the road signs and being a passenger in the Uber with all these cars whizzing around in what seemed to me to be organized chaos was interesting lol I enjoyed that but would definitely not drive, just be a passenger.
COMPARE THE COST OF TREATMENT ABROAD IN 4 SIMPLE STEPS
By using our site, you agree to the Make Medical Trip Terms and Conditions. Make Medical Trip does not provide medical advice, diagnosis or treatment. The information provided on this site is designed to support, not replace, the relationship that exists between a patient/site visitor and his/her existing physician. Copyright © Make Medical Trip This page is also available in: English Deutsch Français Español Italiano Russian Rules of specific data usage By agreeing to Make Medical Trip's Specific Personal Data Policy you agree to the collection, processing and use of your specific personal data you have submitted in the inquiry forms and in your further messages to the clinics and members, including attachments, as far as this is necessary for rendering the requested services. In addition to the data you have submitted during registration, all data input by you in the context of communication with Providers or other users on the platform, is saved. The processing of this data shall take place exclusively for rendering the requested services. Please note that we can provide the requested services only if you have consented to the collection, processing and use of your specific personal data. You have the right at any time to oppose the collecting, processing and use of specific personal data with effect for the future. For this, please send an email with a brief explanation of the revocation to 
Info@MakeMedicalTrip.com
 and specify your name and email address.
Website Disclaimer
The sample documents, templates, ebooks and outlines we give away were constituted by medical tourism experts to help patients and medical tourists with their medical trips.  The intention of the outlines is not to act as a substitute for professional advice for individual circumstances. The outlines do not constitute medical advice or healthcare advice from our company, which entails other entity or person, or company members.
Introduction.
The terms and conditions for these website contained in this webpage are meant to govern the use of the website, and every page within the website (the collective term used for all the web pages is Website). The terms are enforceable and influence the manner in which the website is used. By accepting to use the website, you particularly accept all the detailed terms and conditions outlined here.  This website must not be used if you protest any one of the terms and conditions outlined herein. This website cannot be used by minors (minors, in this case, mean people who have not attained the age of 18 years). Anyone who is a minor is prohibited from accessing the website.
What are website standard terms and conditions?
The terms and conditions for this website have been articulated in the form of a list of rules created with an intention of setting a basis under which the business relationship can be established and for the purpose of regulating the website's repetitive actions.
Intellectual Property Rights.
Except for the content which you have voluntarily chosen to include in the website [MakeMedicalTrip.com] under the stipulated rules, the licensor has full ownership of all the materials and intellectual property contained in the website, and every right has been reserved. All users have only been given limited license for the content dependent on the terms restrictions, for viewing material inside the website. Panda Tip: If and where the content in the website has been designed for viewership, then the user can pick it up from the last point above. Having said that, you will probably be required to offer more with respect to descriptive language concerning what the user is allowed to use our website for.
Restrictions.
Website users are categorically and particularly delimited from; 1)    Publication of any of the materials in this website on any media 2)    Commercializing, sublicensing or selling any material from this website 3)    Utilizing the website in such a way that might damage it 4)    Showing and/or performing any of the website material in the public 5)    Use of the website in such a way that influences access to the website by other users 6)    Using the website in a manner that contravenes regulations and applicable laws, or a manner that might harm or inflict harm on the website or any business or person. 7)    Use of the website for the purpose of engaging in marketing or advertisement. 8)    Performing any data harvesting, data mining, data extraction or such like activities on the website or during the use of this website. Some of the areas in this website [MakeMedicalTrip.com] have been restricted from users and further restrictions may be imposed on accessing other website areas at the discretion of the website owner. Any password and user identification owned for accessing this website is confidential and such information must be held in confidence.
Your Content
In accordance with the terms and conditions of this website, the content for the user means any video, audio, images, text, or any other materials the users opt to display from the website. With regard to the content displayed by users, the user grants the owner a worldwide, non-exclusive, royalty-free, irrevocable, sub-licensable license for the use, publishing, adaptation, translation, reproduction, and distribution of such content to any media. The content displayed by users has to be their own and should never trespass the rights of any third parties. [MakeMedicalTrip.com] holds the rights to delete any user content from the website at their discretion without giving notice, and for their own reasons.
No warranties.
The website has been provided in its current form, with all the faults and there is no implied or express warranty representation from [MakeMedicalTrip.com] in any form in relation to the website or contained materials. In addition, no information contained on the website should be taken to mean that advice or consultancy is provided to the user (this includes connecting with hospitals, clinics, doctors, and/or members through our website).
Limitation of liability.
Under no circumstances shall the website [MakeMedicalTrip.com] or any of the employees, directors and officers be held liable to the website user for any situation emanating from the use of the website or from the connection of any hospitals, clinics, doctors or medical tourism facilitators in any way, whether or not such a liability falls under tort, the contract or any other situation. [MakeMedicalTrip.com] as well as the directors, employees, members and officers will not be held accountable for their indirect, special or consequential liability emanating from anything associated with the website's use.
Indemnification.
The user fully insures [MakeMedicalTrip.com] against and from any liabilities, causes, demands, damages, expenses, and costs emanating from or in relation to any violation of the terms provided (including the attorney fees deemed reasonable).
Severability.
In case any provision in the terms is deemed invalid or unenforceable under any of the applicable laws, then such invalidity or unenforceability will not cause the terms invalid or unenforceable in totality. In addition, the invalid and unenforceable provision will be removed without influencing the other provisions in any way.
Variation of Terms.
The website [MakeMedicalTrip.com] holders are allowed to introduce revisions to the terms as they wish and as they deem fit. By accepting to use the website there is an expectation that you will read the terms regularly in order to make sure that all the terms and conditions guiding the website's use are understood.
Assignment.
The website [MakeMedicalTrip.com] has permission to transfer, subcontract, and assign its obligations and rights under the stipulated terms without having to get consent or to issue a notification. The website users are, however, not allowed to transfer, subcontract, or assign any of the obligations and/or rights under the terms.
Entire Agreement.
All the terms, with the inclusion of disclaimers and legal notices in the website, make up the wholesome contract between the user and [MakeMedicalTrip.com] with regard to the website's use. The terms are superior to any prior understandings and agreements with regard to the website.
Governing Law & Jurisdiction.
The terms for this website are construed and governed in conformity with Florida Laws. The website users must accept to be submitted to the federal courts and nonexclusive jurisdiction of Florida State for the purpose of dispute resolution.